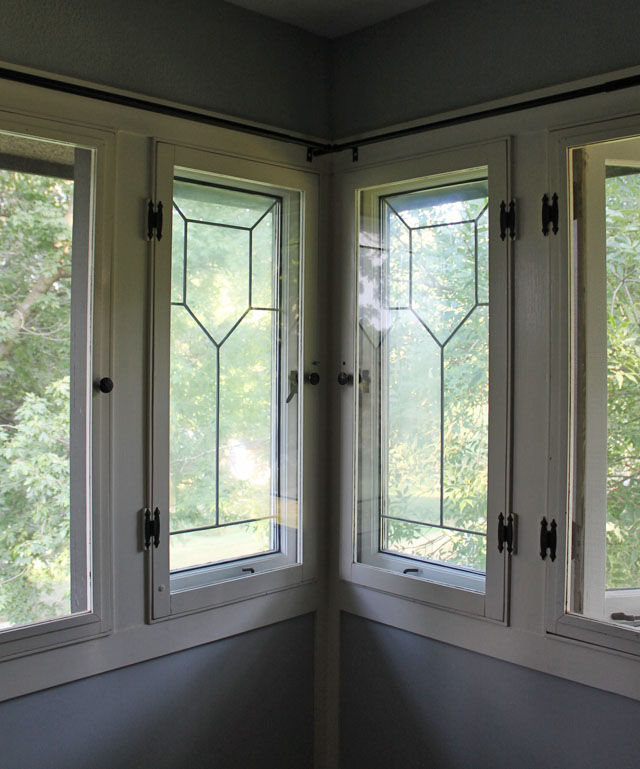 If the eyes are the windows to the soul, as the old saying goes, then the windows are the soul of our house. One of the few original features remaining, the windows are also one of the first things that made us fall in love with the house. I don't mean the number of windows in each room – although that certainly won us over in an instant. I'm talking about the actual 97-year-old original windows. And, in particular, the art glass windows that are in each corner of the upstairs rooms and along the large wall in the living room.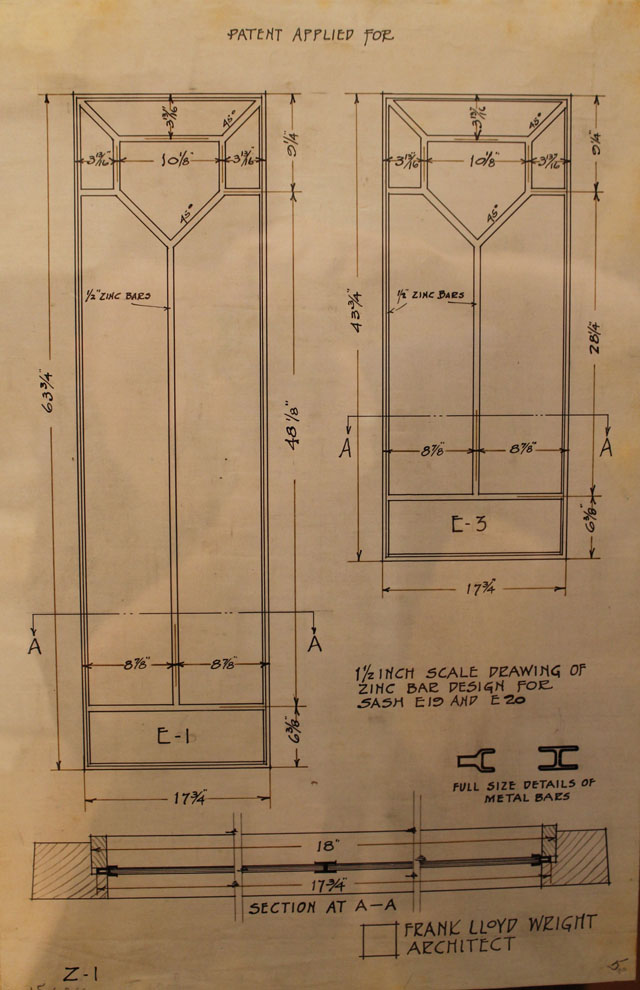 We got confirmation from the house plans that we dug up at the Avery Library that the art glass windows are indeed original to the house. We has initially assumed that the windows are lead glass but they are in fact zinc glass. This probably shouldn't come as a surprise to us since Frank Lloyd Wright used zinc glass in many of the homes he designed, including the Dana-Thomas House in Springfield, Illinois.
The technical, design-y term for this kind of glass is came glasswork. As wikipedia says, "Came glasswork is the process of joining cut pieces of art glass through the use of came strips or foil into picturesque designs in a framework of soldered metal." Although lead is perhaps the most common material used in came glasswork, brass, copper and zinc can also be used. According to Wikipedia, "Zinc makes a lightweight, strong and rigid came, which lends itself to glasswork projects that don't have many curved lines, are large, or have a number of straight lines that require greater support than lead would afford." With the straight lines and large panes in our windows, it definitely makes sense that Wright would specify zinc in the plans.
That these windows, with their wood frames and zinc came, have endured for 97 years is a testament to good house stewardship. Although many of the other original features in the house were pulled out 40+ years ago, the windows remain. They not only remain, actually, they've been lovingly maintained and restored over the years.
When we finally met Peter and Becky, the house's owners for more than thirty years, and the folks responsible for giving the house its birth"wright", as they say, we commented on our love of the windows. Peter piped up that the windows weren't always so nice. Years of summer rainstorms and winter freezes hadn't been kind to the zinc glass windows (or any of the windows for that matter). Peter made it his mission to get the windows back in shape and keep them that way. He cleaned up the rotting wood and had the zinc came glasswork encased to protect and restore it. We're eternally grateful to Peter for making the windows his personal project for so many years.
Images: This American House and The Frank Lloyd Wright Foundation Archives (The Museum of Modern Art | Avery Architectural & Fine Arts Library, Columbia University, New York