Before we were This American House, we were Mr. and Mr. Blandings. In fact, we're still Mr. and Mr. Blandings on Twitter and a few other places. Here's how we got that nickname…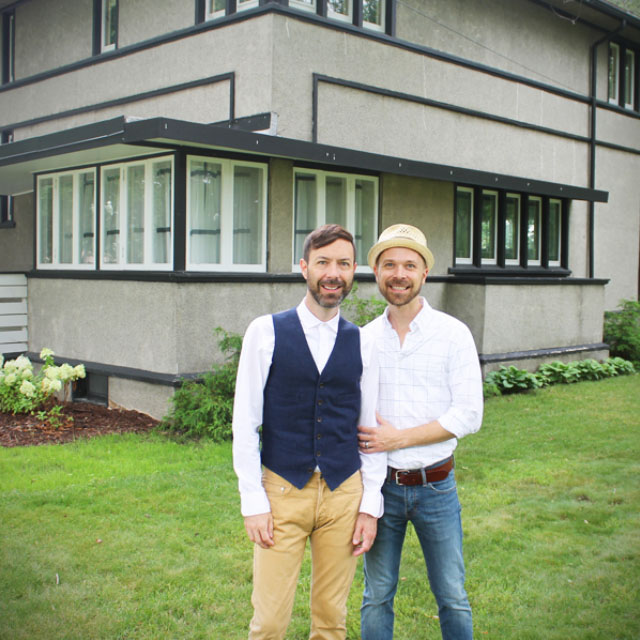 You know the movie Mr. Blandings Builds His Dream House, don't you? Cary Grant, Myrna Loy, 1948. No? It was also remade as The Money Pit,  starring Tom Hanks and Shelley Long, in 1986. And before either of those movies, Mr. Blandings Builds His Dream House was an autobiographical novel by Eric Hodgins. Still don't know the story? He's the gist: A man and his wife are fed up with living in a cramped apartment so they head out to the country to build the house of their dreams. A costly comedy of errors ensues.
I was first introduced to the movie, as I am with all classic films, by my own Mr. Blandings. His love of old movies is one of the qualities that attracted me to him. Over the past fourteen years of our relationship we've spent countless hours watching and re-watching classic films. Sometime during year one of our romance, my Mr. Blandings told me that, with my love of nesting and creating a perfect home, I just had to see Mr. Blandings Builds His Dream House. We rented it soon after and have gone back to watch it over and over again. With my love of nesting and my mister's dreams of escaping the city, this really is our story. We even share the couple's first initials – J (that's me) and M (that's him).
We've always been homebodies, M and I. I'm much happier hunched over a sewing machine than in a bar and he's more comfortable in a library than a dance club. It's funny, then, that we've spent most of our years together in cramped city apartments. We've always made the most of the spaces but it's always been a tight fit. But, hey, that's city life.
While we were re-watching Mr. Blandings Builds His Dream House for the umpteenth time, the early scenes seemed eerily similar to our own home life. There's an opening scene with Jim Blandings waking in the morning and groggily stepping over furniture to open the closet door. Even with his eyes half closed Jim navigates through the cramped room and instinctively reaches his hand out to keep the boxes on the top shelf from toppling on top of him when he opens the closet door. His wife, Muriel, watches in bemusement. Everything in the closet is strategically stacked and cleverly contained. Muriel has found a way to make it all fit.
If you were to look in the closets in our little 800 square foot apartment, you'd see that I've used a Tetris-like technique to get everything to fit. Boxes are on top of boxes, hooks and baskets are attached to the backs of the doors to make the most of every inch of space and shoes line every available wall surface. Just when I think I've gotten it perfectly situated, we add something else and everything starts getting cluttered and messy all over again. If you're not careful, you'll be buried under a pile of sweaters and tote bags. Sisyphus has his rock, I've got my cramped closet.
There's another scene early in the movie that feels ripped from the pages of our autobiography. As Jim is shaving at the bathroom sink, Muriel is trying to primp as well. They squeeze in and jostle for position in front of the small mirror. He opens the mirrored door of the medicine cabinet to step out of the way and she closes it to get a closer look at her face.
Like Jim and Muriel, we have one bathroom in our apartment. Now, we've shared a bathroom for years. In our fourteen year union, we've only lived in homes with multiple bathrooms twice – for a total of about three years. Let me tell you, once you've lived with two bathrooms, it's hard to forget it. For the past six years we've shared this one tiny bathroom, scheduling time for morning ablutions and burning our bums on the radiator when we both brush our teeth or shower at the same time.
In the film, Mr. and Mrs. Blandings buy an old house in the country and, after discovering that it must be demolished, decide to build their dream home. As they work with the architect they get carried away with all the features they want packed into it. If you're going to build a house, you may as well get everything you want, right? They add in separate bedrooms for their daughters,  bathrooms for every bedroom plus a couple more for good measure, a sewing room for her, a study for him and on and on. It a 1948 McMansion.
So this is where our stories start to differ. While Mr. and Mrs. Blandings start from scratch, Mr. and Mr. Blandings are going to buy a house that's in good shape. In the movie, the couple scooped up that old house on a whim, enticed by the country air and the fact that the realtor tells them that it's a piece of American history. We, on other hand, are taking a measured approach to finding a house that will become our dream home.
The search for the house has already been a long process. We don't have much money to spend on a house but we're also not willing to buy something that needs a tremendous amount of work so that limits our options. We're looking in areas that are fairly close to the city but have found that we're going to have to push the boundaries to get a better deal. We'll be hanging onto our city apartment for the next few years so we don't want to wander off too far. M is committed to his job for the next two years and we're hoping the real estate prices will rebound in the meantime, which will help us sell the city apartment at a profit. Meanwhile, our dream house will be an escape from city life. It'll be the place where we can spread out and breathe.
So that's us — Mr. and Mr. Blandings. We won't be building our dream home – we'll be crafting it. And we'll be blogging about it along the way.
Images: Screen captures of Mr. Blandings Builds His Dream House
; All others: This American House