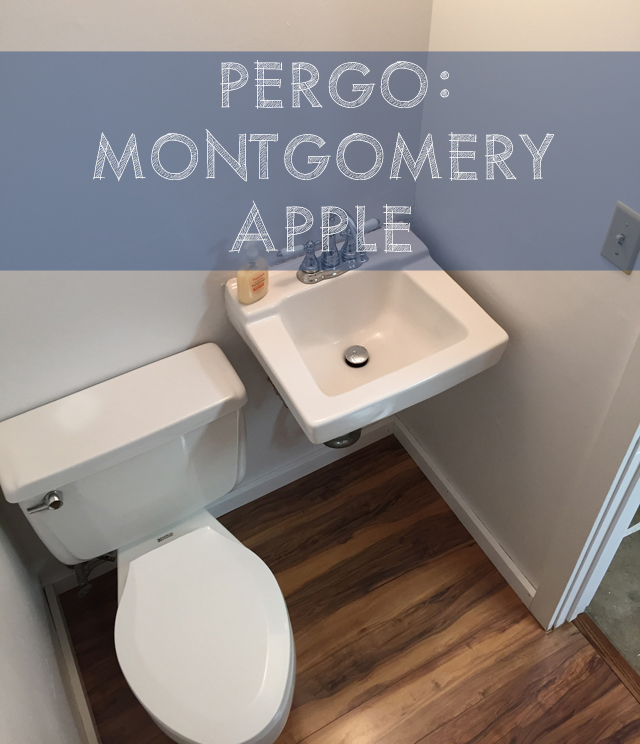 So, quite frankly, I thought I would have more details about the basement bathroom to share. I bought a new toilet and sink that we had planned on installing in the bathroom. That is, until we discovered that the standard toilet wouldn't work. For future reference, folks, always check to see how the toilet drains before you buy a new one. Our basement toilet drains out the back so of course the standard model we bought didn't work. And since we kept the toilet the new pedestal sink I bought wouldn't fit either. Hey, at least we saved some money by cleaning up the old stuff!
The one new thing that did go into the room was laminate flooring. Since it's a small space I wanted something I could just buy off the shelf at Lowe's or Home Depot. I eventually found a laminate with a nice grain and dark color: Pergo Montgomery Apple. When I picked up the box I was delighted to discover that Pergo is made in America! As you might know from previous posts, one of the goals of This American House is to outfit it in American made and vintage materials and furnishings. Mission: accomplished!
Early in the planning stages of the basement bathroom overhaul I had contemplated laying down a hex tile floor. I saw this as my opportunity to experiment with laying tile before moving on to the kitchen and main bathroom. And then reality hit. I wanted to knock out this bathroom in a weekend. To do that, I'd have to find a faster flooring option.
Laminate flooring appealed because it's affordable, easy to install and it can look really good. I'm happy to say that all three things applied to this project. I purchased four boxes of the flooring (plus, the underlay that is also made by Pergo) for under $200, installed it in just a few hours and ended up with a nice looking floor in the bathroom. In fact, since everything else in the bathroom is white, I like the way the woodgrain of the laminate flooring warms up the space.
**This American House was not compensated for this post. This is our opinion about a product that we purchased for installation in our home.