"I don't know," I said to my friend Joan. "If you ask me, I think hostas are just weeds that we tolerate."
I uttered those words earlier this spring. I had just dug up and moved what seemed like the one hundredth hosta that's planted around the house. At that time, the hostas were these small, uninteresting plants that felt more like a burden than a joy.
"Oh, just you wait," Joan replied. "You're going to love them."
Well, folks, Joan was right. I have indeed learned to appreciate the hosta plant. I mean, would you just look at that bucket full of flowers?! Those are all cut from the hostas that populate the landscaping around our house.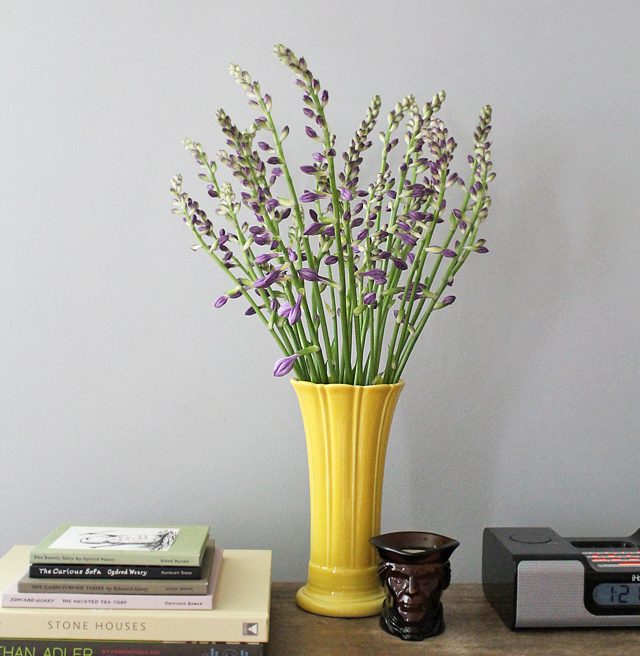 Now, I just love having fresh flowers around the house. Back in the city I'm used to buying flower bundles at the grocery store and trying to stretch them out in lots of little vases to the fill the house. Here at the Dream House, I just need to march out into the yard with scissors in hand to create my own flower bundles!
Of course, if I had known that the hostas were going to provide these gorgeous purple flowers I wouldn't have called them a weed.
I experimented with cutting the flowers from the hosta plants a couple of weeks ago. I wanted to make sure they would last more than a day or two before I cut a bunch of them. I'm happy to report that the flowers last well over a week after they've been cut and put in water. It also looks like cutting the flowers from the plants does not harm the plant in any way. (You can also cut the hosta leaves for arrangements but I'll save that for another post.)
Now that I not only tolerate hostas but actually kind of like them, I went in search of more information about these hardy plants. Here are a few facts via Wikipedia:
They are commonly known as hostas, plantain lilies (particularly in Britain) and occasionally by the Japanese name giboshi.
The plants are native to northeast Asia.
 The name Hosta is in honor of the Austrian botanist Nicholas Thomas Host.
There are over 3,000 registered and named varieties, and perhaps as many more that are not yet registered with the American Hosta Society.
Hostas are toxic to dogs, cats, and horses due to the saponins contained in the plant.
So my friend Joan was right. I have come to appreciate hostas. What do you think? Are you a fan of the plant?
Images: This American House