In taking a year to rehab the kitchen in fits and starts I ended up experimenting with my approach to painting the cabinets. By the time I got to the second half of the job, I had perfected my method. And now that we've lived with the painted cabinets for a few months, I'm proud to say that my method worked! The painted cabinets are holding up nicely and are easy to clean. In other words, my trial and error is your guide to doing it right the first time.
When I first started the project, I used my Craftsman Nextec tool to sand the doors and drawer fronts before applying primer and paint. That was a messy and time consuming job that I thought was necessary to get good paint coverage. I soon realized I was making more work for myself than was necessary. So without further adieu, here's the method for painting the cabinets that I finally landed on.
First, I used Gloss Remover to strip the shiny top coat off the doors and drawer fronts. This step eliminated the need for sanding, which was essentially just roughing up the glossy top coat anyway. I applied the gloss remover with steel wool, giving it a little extra elbow grease to make sure I was being most effective. 
After allowing the gloss remover to dry, I then followed up by washing everything with TSP. The gloss remover had left a white film on the doors and using TSP made short work of cleaning it off. It also washed away any food and grease that may have been clinging to the wood.
Then, before I started painted, I filled in the cracks and crevices in the cabinets and trim. Since I was painting the cabinets white, this step was especially important. Had I not filled in the cracks, they would have appeared as giant, dark gaps against the white paint.
Now that everything was de-glossed, washed and prepped, it was finally time to start painting. I applied two coats of primer using a small roller and, in tight crevices, a small paint brush. I'm a big fan of the Shur-Line Trim Roller for paint jobs. It's small enough to work in tight spaces and doesn't leave brush marks like a paint brush would.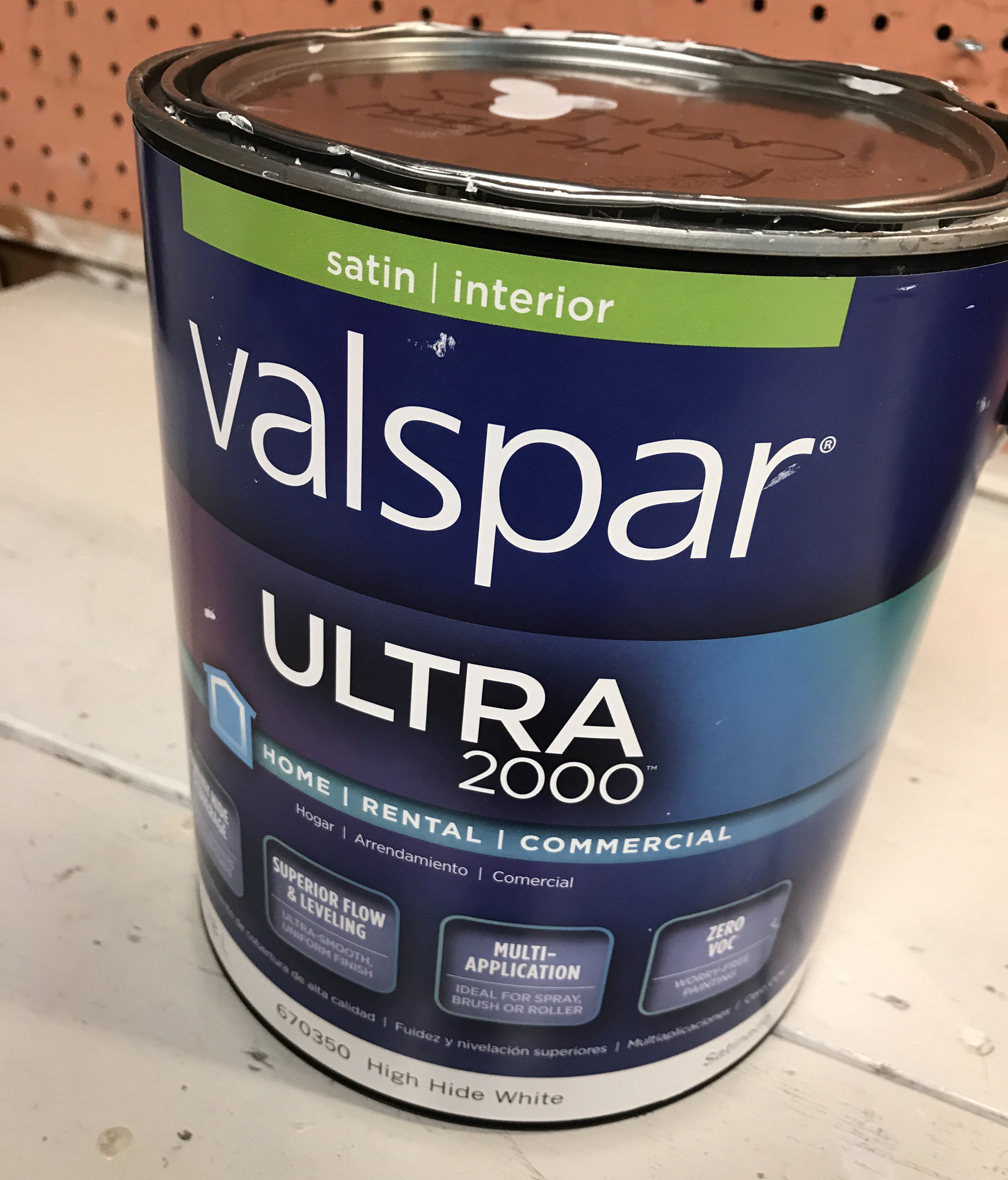 I allowed the primer to dry for a few hours and then applied three coats of white paint, allowing the paint to dry between coats. I chose a satin finish, also applied with a small roller and paint brush, because I find it easiest to work with. Plus, as you'll see in the next step, I applied a top coat that will protect the paint and add a nice sheen so I didn't feel the need to use a glossy paint. Besides, high gloss paints tend to amplify imperfections.
Finally, after everything had been painted and allowed to dry thoroughly, I applied two coats of satin finish clear lacquer. I used a paint brush to apply the lacquer and allowed it dry between coats. This lacquer will help protect the paint and make the cabinets and doors easy to clean. And since I chose a satin finish, the cabinets have a little sheen but they're not too glossy.
It may look like a lot of steps … and it is! There are cabinet painting kits that might make the process a little easier but who wants to pay for a kit when you can make it up as you go along?
To see how the kitchen looks after everything was painted and the new sink and countertops were installed, check out this kitchen mini-renovation post.