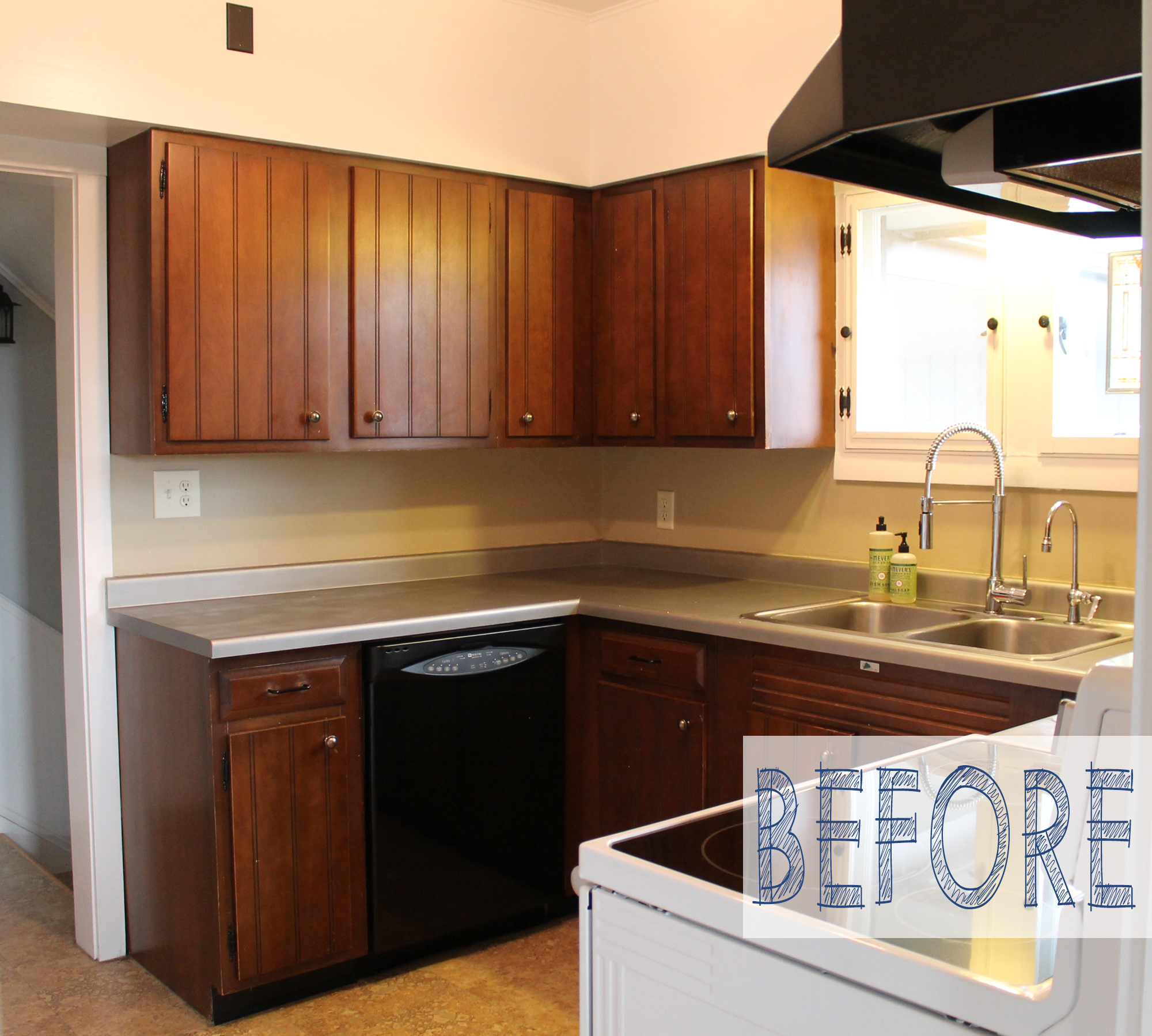 Previously on This American House: We kicked off the kitchen mini-renovation by rehabbing a small corner of the kitchen. Now the time has come to finish the other 3/4 of the kitchen. First up, painting the cabinets.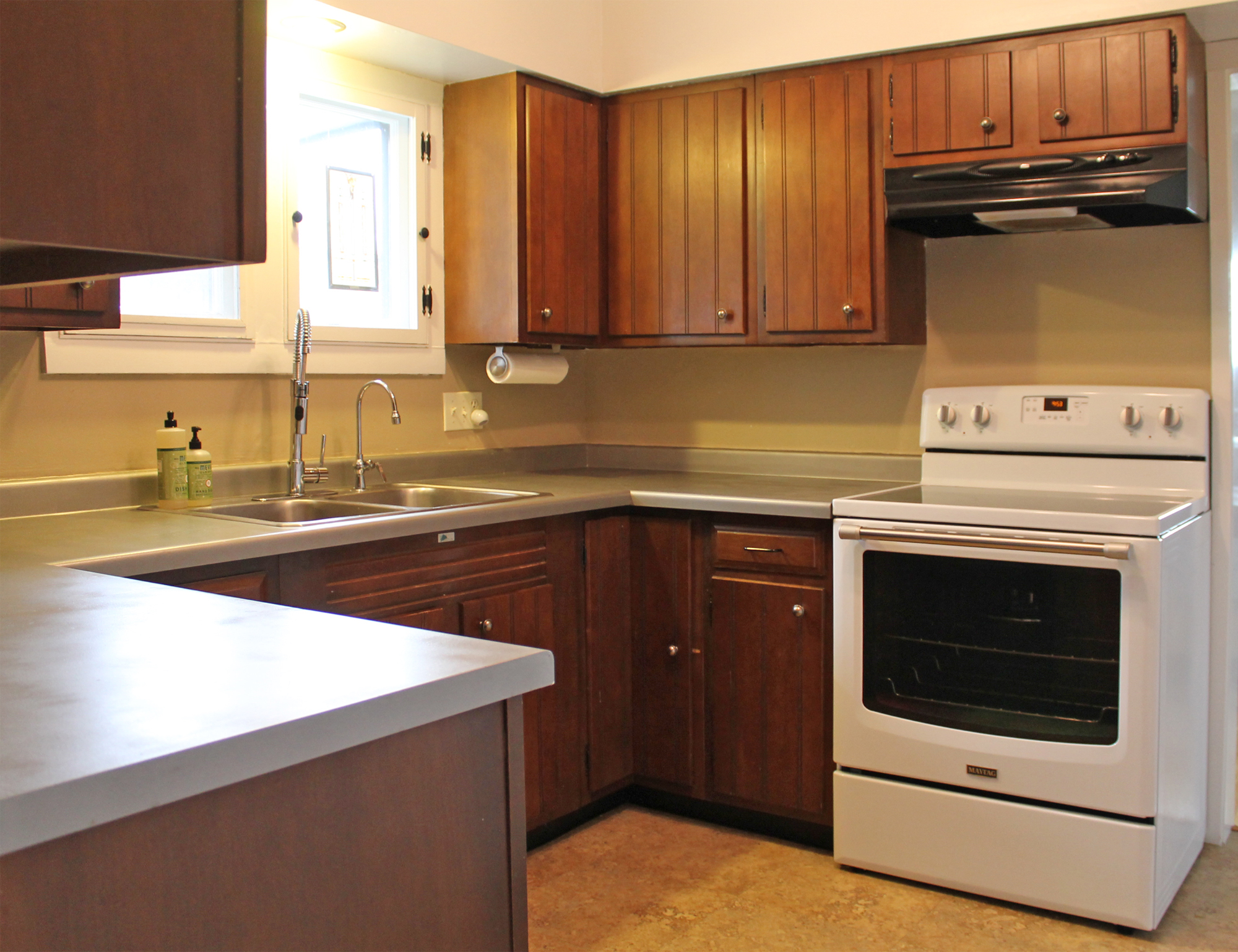 The dark wood cabinets from the 1980s are in fairly solid shape but were banged up and in need of minor patching. We had thought about replacing the cabinets – even going so far as toying with reconfiguring the kitchen back to its original layout – but decided instead on a mini-renovation. (In other words: economics + logistics = keep existing cabinetry.) The countertop, on the other hand, has got to go. What might have been a lovely formica countertop had been painted silver by the previous owner – a paint job that hadn't aged well in the intervening years. But that's getting ahead of myself. Let's focus on the paint job at hand.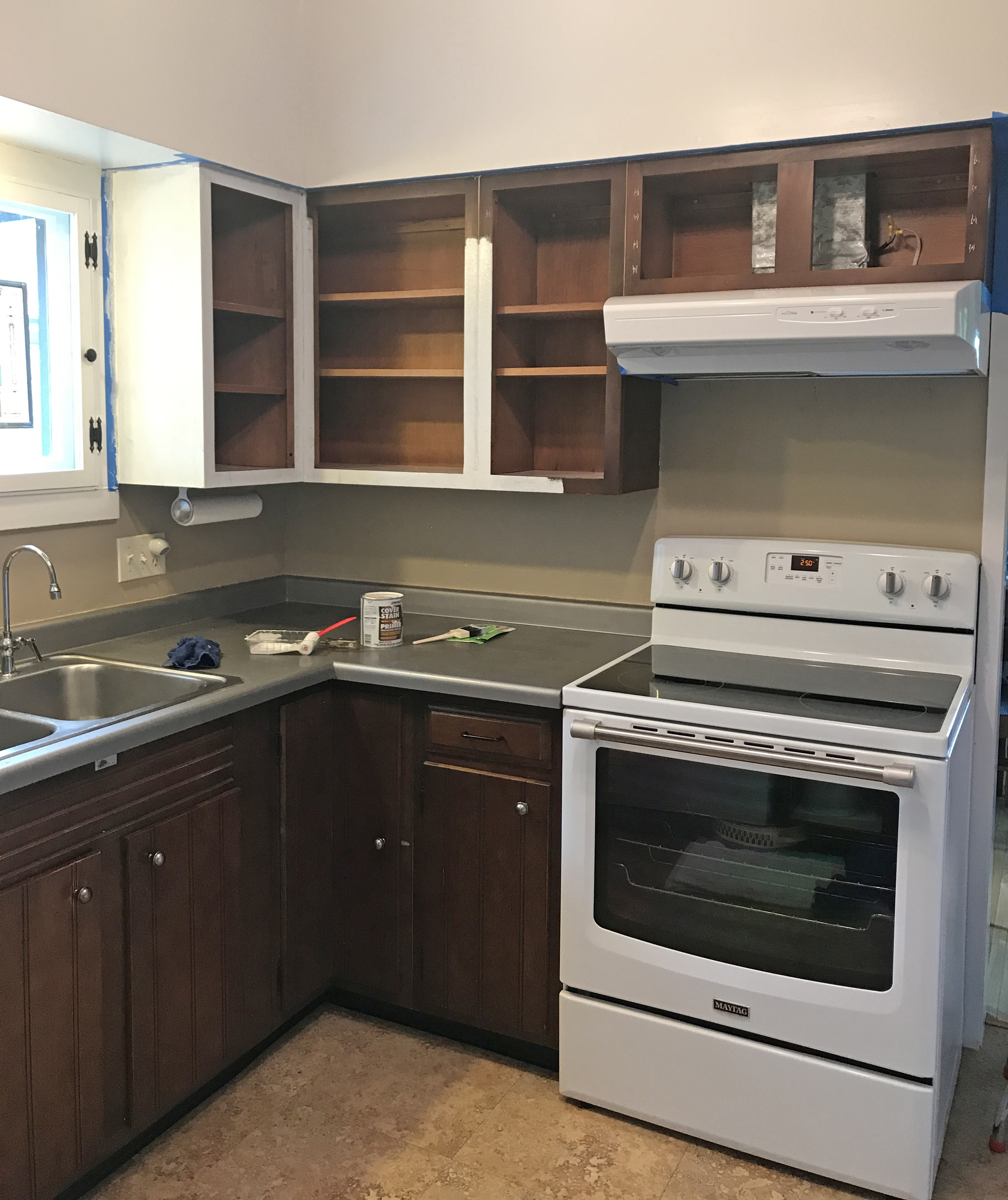 As with the side of the kitchen that we previously finished, we could immediately see the improvement that painting the cabinets was going to make. It took just one coat of primer to recognize that the paint job was going to transform the kitchen. While the dark wood cabinets were probably quite lovely when they first went in (no judgement of past owner decisions here!), painting them white would brighten up the small kitchen. (You'll also notice that we've been swapping out the appliances along the way as well. As the old black appliances have been conking out – first the oven, then the fridge – we've been replacing them with white appliances.)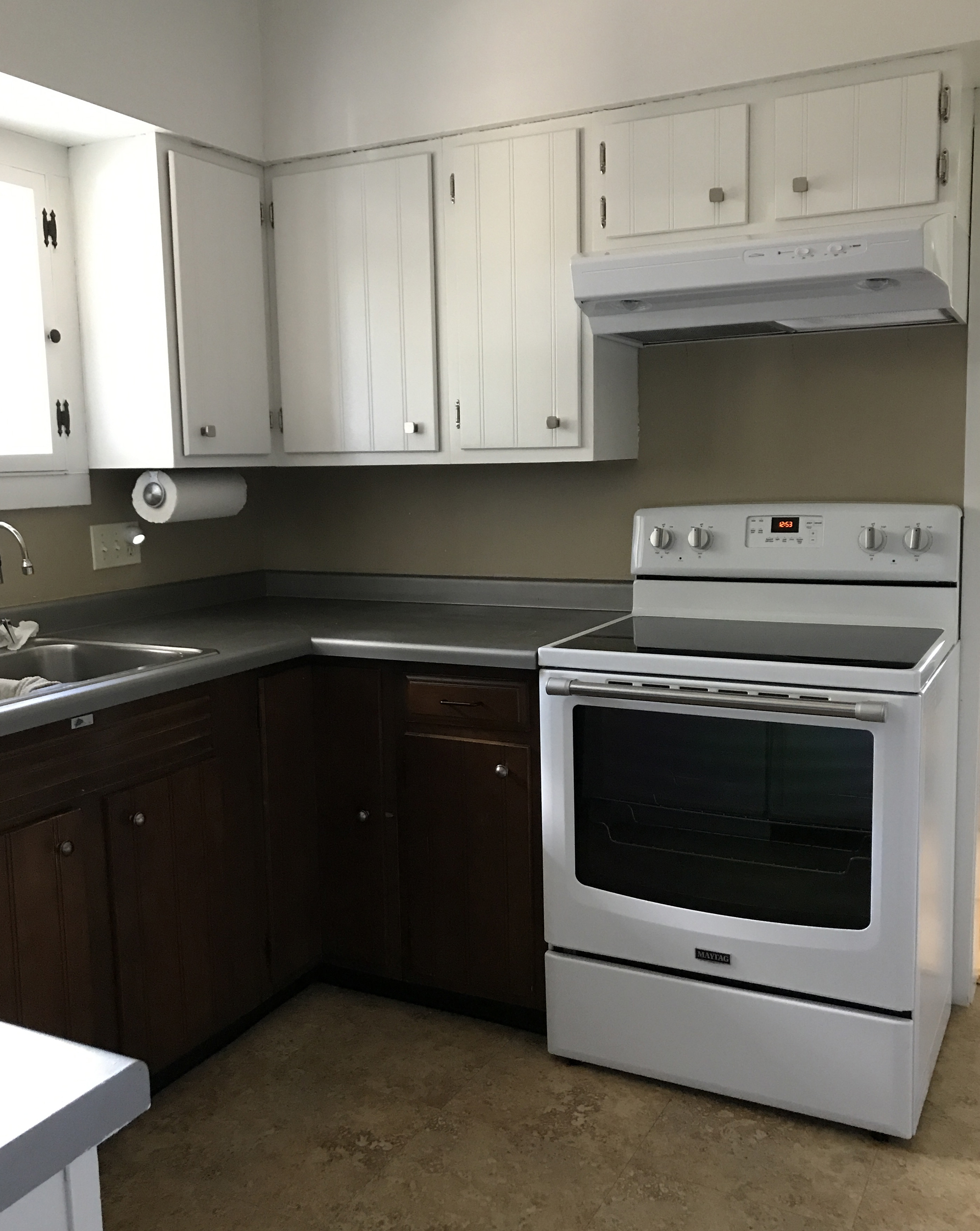 I worked on painting the cabinets in little fits and starts over the spring and summer months. In working in batches I experimented with my method and eventually by the third set of doors and frames I had developed a perfect system. (More on that in a separate post.)
At times it felt like a Sisyphean task that I'd never actually complete. That's the problem with working on projects in small batches. It's really hard to see the light at the end of the project tunnel.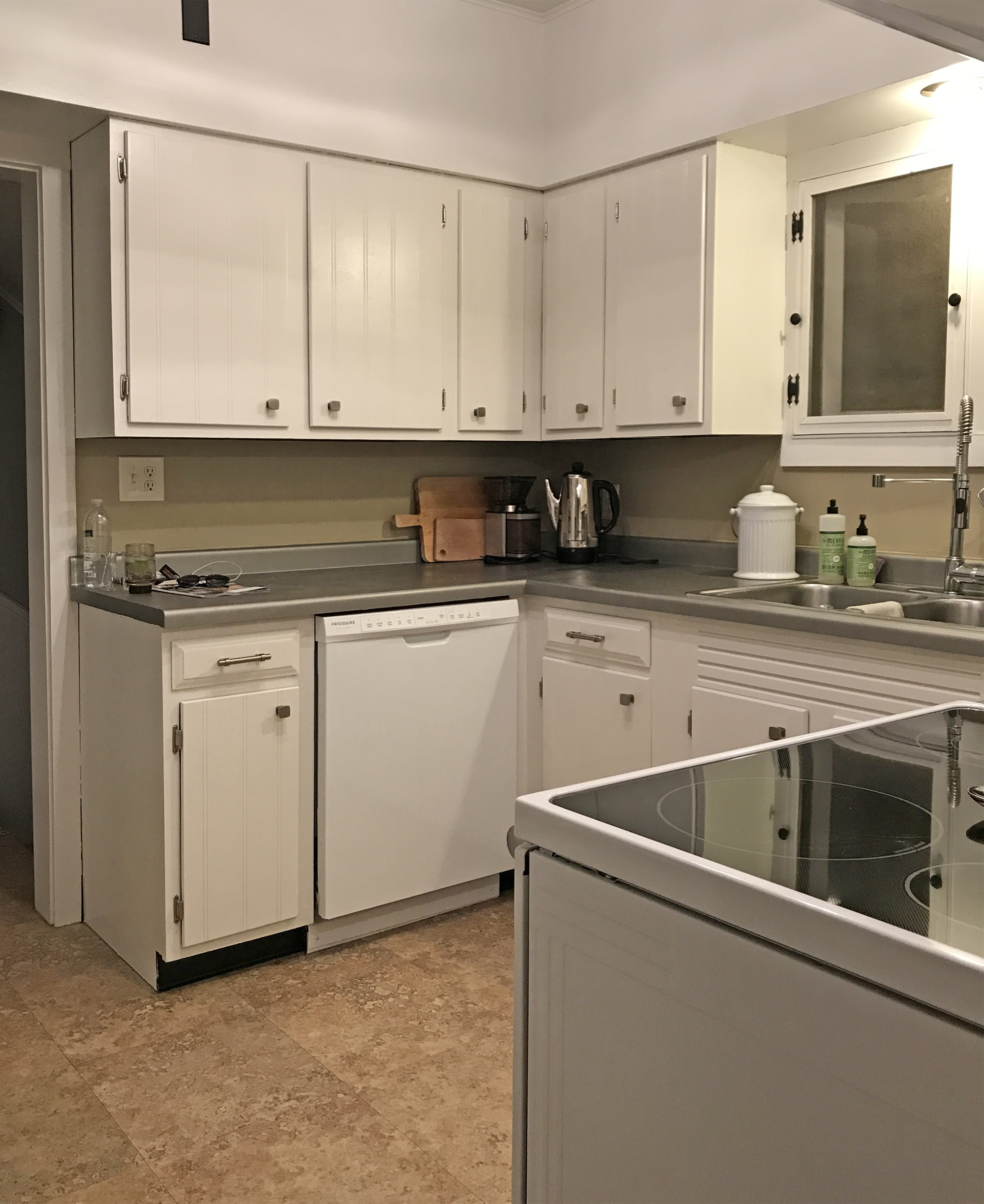 Painting the cabinetry may have been a slow and arduous process but it was definitely worth it. The kitchen looks much brighter now that that dark wood is covered in white and the black hardware has been switched out with nickel.
And now that everything is painted, it's finally time to swap out the countertop. I'll follow up with the post soon.