One of the many things The Mister and I have in common is an appreciation for cemeteries. He spent his teen years exploring old cemeteries along the plains of North Dakota and I spent mine discovering forgotten burial grounds on the back roads of rural Ohio. Mind you, we weren't goth kids and there was nothing macabre about our appreciation of cemeteries. The Mister was interested in the history of the crumbling tombstones and I was just happy to escape to someplace that offered solitude and silence.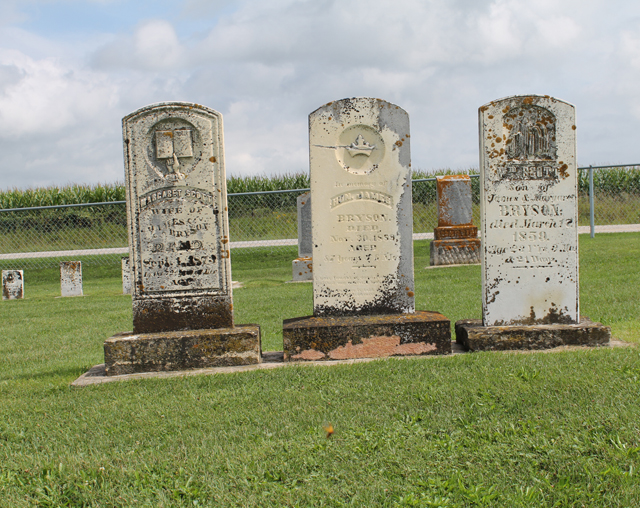 In the fourteen years that we've been a happy couple, we've spent many vacations trekking through cemeteries to visit the final resting places of famous folks and lunched along the dead in the historic cemeteries of Chicago and Paris.
It was on one of our first trips out to see our house before we purchased it that I made note of the little old cemeteries that we passed along the way.
"Oh, pioneer cemeteries," The Mister piped up from the passenger seat. "I tried to get a book deal documenting those when I was younger."
"Of course you did, my industrious mister."
Since that conversation, I've been noticing all the pioneer cemeteries that I pass on my Midwestern travels. Along the rural landscape surrounding This American House there are a number of these old burial grounds. While the term "pioneer cemetery" differs from state to state, according to Wikipedia the State of Iowa defines "pioneer cemetery" as "a cemetery where twelve or fewer burials have taken place in the past 50 years." After passing the Rossville Cemetery, with the big iron gates that declare burials from 1922 – 1996, I finally stopped to explore. By Iowa's definition, I guess this cemetery doesn't really qualify as a pioneer cemetery but anyway…
The Rossville Cemetery is about the size of a small city park. Many of the stones are marked with a five pointed G. A. R. star. These stars mark the stones of men who served in the Grand Army of the Republic as "veterans of the Union Army, US Navy, Marines and Revenue Cutter Service who served in the American Civil War." Most of the old stones are so weather worn that the names and dates have all but disappeared. The old grave markers are also covered in orange lichen, a color that I've only seen since coming to this region of Northeast Iowa.
We'll continue exploring pioneer cemeteries in our travels and hope to bring our readers (all 10 of you!) photos of these fascinating pieces of history as we document them.
Images: This American House