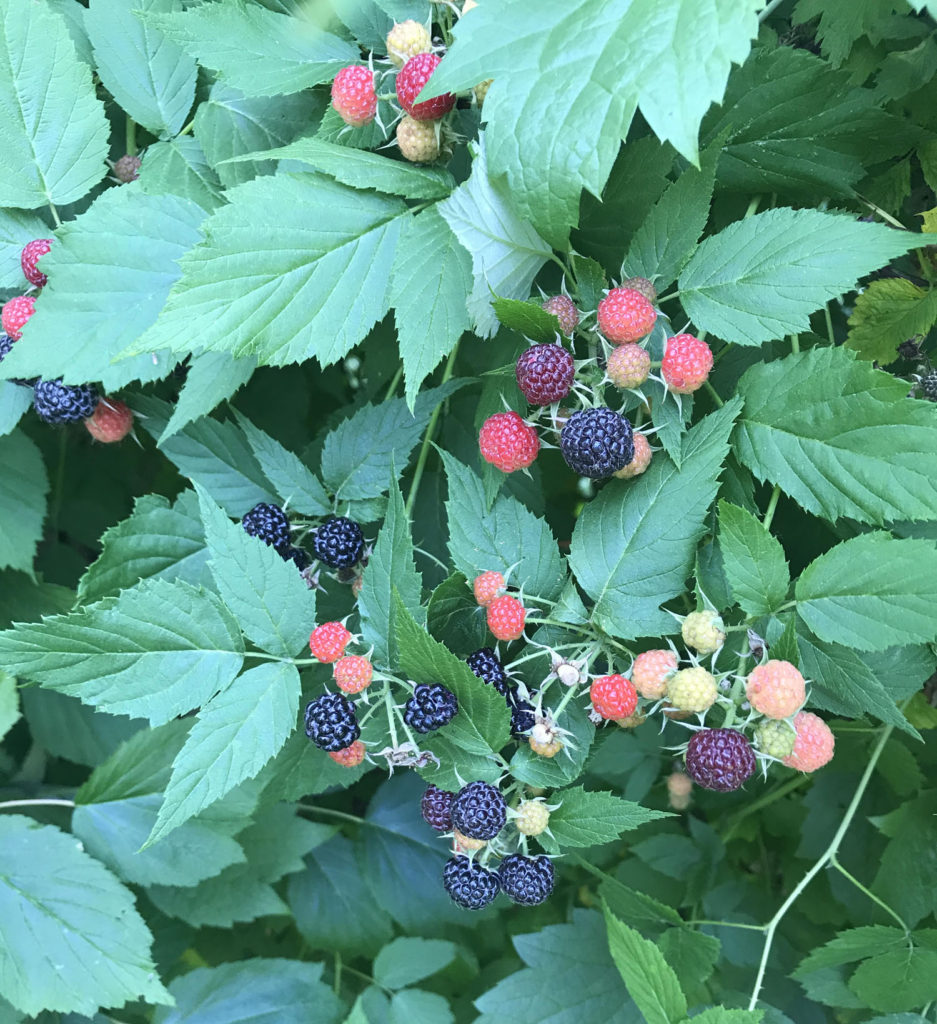 One of the absolute joys of summer – even a summer that's been disrupted by a global pandemic and crazy politics – is the abundance of fresh fruit and vegetables. A previous owner planted black raspberry bushes on the far side of the new garage at the Meier House. For the first few years of our ownership, we let these raspberry bushes go wild. And then every summer we'd pick a few raspberries and promise ourselves that one day we'd tame the bushes and get a proper harvest. Well, thanks to the coronavirus pandemic and having a little more time on our hands, we're finally keeping that promise.
Early this spring, when the raspberry bushes were just starting to sprout leaves, I donned my trusty garden gloves and grabbed the garden clippers, some twine and three long metal poles. I pushed the poles into the soil, one at each end of the bushes and one in the middle, and used them to string twine across the length of the bushes. I pruned the bushes and then used more twine to secure branches and try to create some order to the twisted vines. I had no idea whether this would provide a better raspberry harvest later in the summer, but it certainly made it easier to mow around the bushes.
Oh boy did it make a difference! Every day over the past two weeks we've been harvesting bowls full of the delicious little berries. At first we were eating them as fast as we could pick them. Raspberries in yogurt, raspberries smashed on toast, raspberries by the handful…! Raspberries!
After getting our fill of fresh berries, it was time to preserve. I considered freezing them but we wanted something that would last a little longer. You know, something that we could pop open on a winter day to get a little taste of summer. We bake a lot of breads, biscuits and muffins during the winter months so the answer seemed obvious – jam! And since we also have an abundance of rhubarb, I decided to combine two summer treats into one delicious jam.
We spent a Saturday afternoon making a raspberry rhubarb jam that will deliver a delicious taste of summer to those cold winter months. And, really, once you make homemade jam, you'll never want to buy it again. Not only is homemade easy, it's free of preservatives and oh so delicious. It's really just a few simple ingredients: fruit, sugar, pectin and time.
Basically, all cooked jams are the same recipe:
Ingredients:
5 cups prepared fruit – in this case I used a mix of raspberries and rhubarb
1 box fruit pectin
1/2 tsp. butter or margarine
7 cups sugar, measured into separate bowl
Directions:
Mash the berries, chop the rhubarb and then combine. Add the fruit and pectin to a large stockpot and bring to a boil over high heat, stirring constantly. Once the fruit mixture comes to a rolling boil, stir in all 7 cups of sugar. Continue cooking over high heat until it returns to full rolling boil. Boil for exactly 1 minute, stirring constantly. Remove from heat, skim off any foam with a metal spoon and wham bam thank you jam!
Now that you have jam, it's time to can. Place your jam in warm sterilized canning jars, place lids and caps on top and then process in a hot water canner to enjoy that summer feeling all year long. You'll find instructions for canning on the Ball/Kerr website.
Jam on, friends!